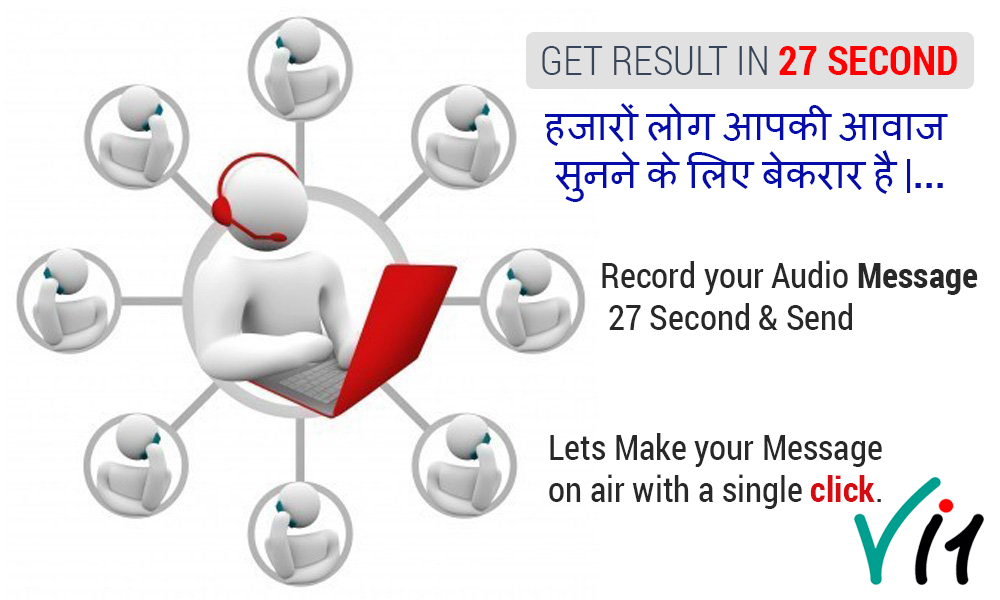 Voice SMS Marketing Services
Vi1 offers a powerful, adorable text messaging platform. Web based software is so easy to use that you'll have your first mobile marketing campaign running in no time. A standard text message is limited to 160 characters. Characters means letters, number, spaces, symbols and punctuation. Our provided text message marketing / SMS marketing offers instant exposure resulting in a boost in sales. Our goals are to ensure all of our clients have an amazing experience in mobile marketing and pricing will vary depending upon the needs of the each business.
Bulk Voice Call Price in Ahmedabad
We at Vi1 leave no stone unturned to find the only best people to drive our success home in the global messaging in the industry at the best competitive price in the industry.
With Caller ID
Voice SMS Credit
12 Months Price Per Call
Net Amount [Including 15% Service Tax ]
5,000
0.60
3450
25,000
0.50
14375
50,000
0.40
23000
1,00,000
0.30
34500
High Availability: Having the use of cloud infrastructure, multiple operators on each location, redundant power supply, redundant network, cloud infrastructure, 24×7 live monitoring ensures you continue service.
Huge Capacity: We are having our own cloud datacenter due which there is huge capacity for optical fiber connectivity with operator. This helps us to process a "Million" voice calls in a day and you can reach more people in less time.
Quick Setup: We consider in automatic process so you need not to wait for hours to get a complete setup which can be done in 60 seconds.
Multiple Gateways: Vi1 voice broadcasting application is designed to handle multiple voice gateways to deliver very high quality voice to all type networks & communications mediums.
Customization: We offer customized solution with telephony technology so we are able to do customization any time as per the requirement.
No Contract & Commitments: We do not combine any patron with commitments or contracts; our client only pays for used services and your needs without any hassle.
Whatsapp Integration: Moving beyond traditional trend of getting missed call alert from SMS and Email, we at Vi1 provides Whatsapp notification, first time ever in the history of missed call alert industry.
Upload Audio Files: In our provided service you can upload audio files, WAV file, MP3 file and other format file. Further you have to make sure audio is clear and easy to understand before uploading.
Detailed Reports: We are providing you to get complete report of your voice marketing campaign in web based control panel which can be tracked easily for the details who received your voice call and who did not.
Cost Effective: We are covering 95% of network worldwide and as per your need we are one stop solution, in which you have to pay for used service with the best pricing in industry.
Web Control panel: We at Vi1 offer user friendly panel which is easy to use and manage. Even you can check the status of voice calls using our web-based panel which can be operated from everywhere.
Custom Caller-ID: With the help this you can use your own existing number for voice broadcasting and even you can change your number any time.
Easy To Manage: Voice sms is very easy way to send the voice calls and there is no need to have technical knowledge. We manage all the campaigns under web based panel and very easy to record and send voice calls.
Excel Report: With the help of the excel report you can easily export or download of your reports for detailed analysis. The provided excel delivery report is easily understandable and lightening fast.
Schedule Options:  We at Vi1 provide you the services in which you can schedule your voice campaign for future dates for a predefine date and time. In this the system will automatically broadcast your message on scheduled time.
Contact Management: You can import all of your contact numbers in few seconds and manage your contact list as upload contact, filter all contacts, remove duplicates, and invalid numbers tec.
Background management: We at Vi1 handle most of time consuming processes like contact uploads, campaign sending, voice optimization handling in background and saves your valuable time.
Real Time Reports: We are providing you real time reports, the system will update you all reports as per calls processed and even you can track the progress of your voice calls campaign in real time.
High Speed: Vi1 provided application is able to process more than 500 channels per campaign and eve provide 200 dedicated channels to each campaign, and each campaigns process simultaneously.
Voice Optimization: Vi1 has the best voice platform which can automatically customize your voice file to ensure best quality and speed. It's a great way to send important personalized voice message in seconds.
Customer Support: We are providing you 24/7/365 days support via email, phone and even on live chat. We are having a dedicated and professional team support who can resolve any kind of issue in minimum time period.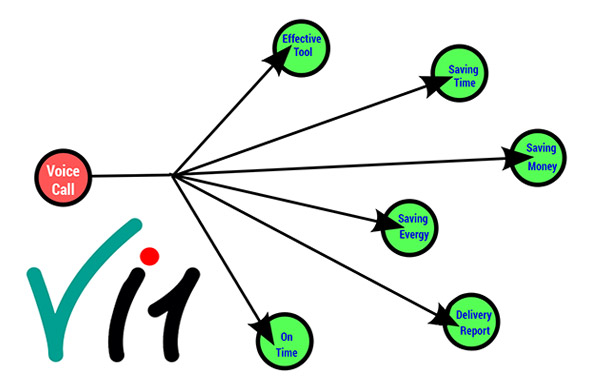 Voice broadcasting is a well-organized and lucrative way to deliver appointment reminders, promote events, automate customer alerts, conduct surveys, solicit re-orders, and more. Vi1 Voice broadcasting application's state-of-the art technology is both extremely sophisticated with the support for IVR functionality, text-to-speech personalization, live transfers, voicemail detection, and real-time reporting. We design our infrastructure for all type and size of business. High speed, highly scalable cloud setup, 10G network, Huge capacity ensure fast, reliable and secure services. We at Vi1 believe in robotic process so that without any disturbance you can get a complete setup. Our offered voice broadcasting application is designed to handle multiple voice gateways to deliver very high quality voice to all type networks and communications mediums.
Features of Voice Broadcasting
Improve Productivity: Voice broadcasting plays an important role to improve your business productivity. Moreover, this service improves productivity and response.
Enhance Relations: As per the research voice is easy to remember and recall other then text or graphics so if you have voice communication with your client then this means your impact is better than other mediums.
Better Understanding: The service Voice broadcasting has core role in business presentations, by voice communication and you not only are delivering your message but also you deliver your message with exact meaning in limited time.
Personalization: We are having the best team of telemarketing who are connected with your clients, targeted audience but automated voice broadcasting has no limitations.
Brand Presence: Vi1 provides voice broadcasting service people will know about you and about your brand and this is the perfect platform to increase your brand presence and reputation in industry.
Survey and Feedback: We are doing the research on IVR based campaigns which are able to generate feedback and survey over large scale in limited time frame.
Lead Generation: Our provided voice message is very efficient to reach wide market, so this service can generate more leads and convert them into potential customers which will surely generate profit for your business.
Convenient Way: Our service is the best voice broadcasting campaign which is easy and available 24×7 and therefore the message can be easily sent to the user convenient through the web.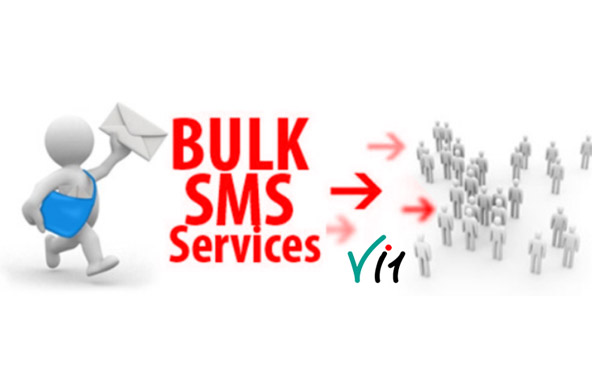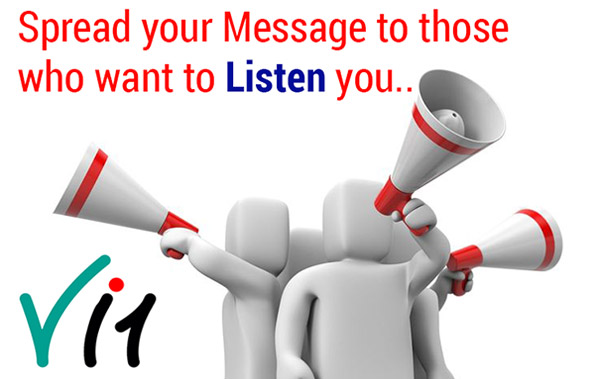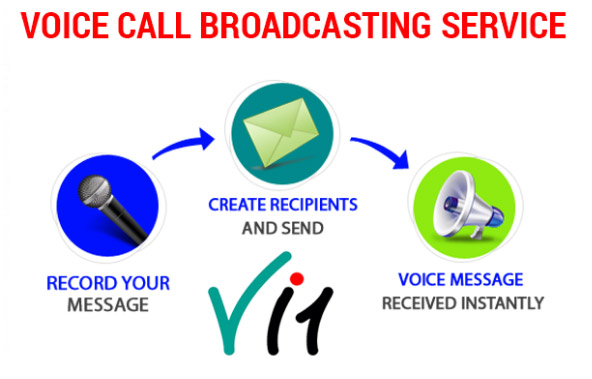 FAQ's of Voice Broadcasting
What is Voice Broadcasting?
A voice broadcast is an essential tool that lets you send a pre-recorded message to your group in seconds by telephone. Our system allows you to schedule the voice messages to take place at a time and date of your choosing. It's simple and incredibly effective way to communicate with large numbers of people very quickly.
Who should use Voice Broadcasting?
Any organization or business that needs to communicate with large numbers of customers, employees or client groups. These services can be used for different purposes like Promotions / Advertising, Reminders, Announcements, Emergency Calls, Greetings, Invitations, Campaigns by Corporate, Educational Institutes, Politicians, NGOs, Government Offices, Retailers, Hospitality Business, and Individuals etc.
Why is Voice broadcasting more effective than traditional form of marketing?
There are many reasons why we are using voice broadcasting. Paper-based and email-based marketing are extremely unsuccessful in most situations. We all know what happens when you receive Spam email or junk letters – they go straight in the bin! Voice broadcasts reach the customer in a much more direct manner – via their phone. Voice broadcasts have been shown to be hundreds of times more effective than traditional marketing methods. In addition, a voice message costs less to deliver than a posted letter or a message delivered by a telemarketing agent. When you start using Voice Broadcasting, your response rates go up and your costs come down.
How much does it cost?
The software automatically calculates the cost of sending a voice broadcast as you edit it. The cost depends on the volume and frequency of your message, and the length of the message. The more you send, the cheaper each message becomes. The prices also depend on whether you're sending messages to landlines or mobiles.
How quickly can I send a message to my customers?
Our highly developed systems can send hundreds of thousands of messages out per hour. No matter how demanding your requirements are, we have the capacity to deliver your message on time, every time.
How do I choose which customers get my message?
When you sign up with Vi1 SMS you get access to an advanced web-based control panel that lets you set up recordings, upload your databases and broadcast your messages to the right people at the right time.
What format of audio file is allowed for broadcasting?
For Voice Broadcast you can use only .WAV Format audio files.
How long after depositing funds will Credit appear in my account for use?
Once you have deposited funds, we will add the credits in your account usually within half an hour time, but could take as long as 1 hour depending on request volume.
How can I schedule a Voice Broadcast campaign to start in future?
Go to Campaign Schedule option when creating a campaign, and select the time and date you want to start the campaign in the start field. Once the campaign is created, start it from the Action menu of the campaign and it will start dialing on the given date and time.
How do I send a voice broadcast to multiple recipients?
It is very easy to send a voice broadcast to multiple recipients, just we have to add the contacts manually or add an entire list to the To field.
Can I schedule voice broadcasts?
Yes, audio recording can be scheduled exactly like regular text messages. Instead of clicking on send , you can select the schedule message option on the left side of the screen and you can send your voice broadcast to be sent on a given date or to repeat hourly, daily, weekly, monthly or yearly.
Can I use the Buzz Voice broadcasting system with music?
From our experience we recommend that you keep your message simple and clear. Convenience is important for your audience so if you want to use music this should be kept at low volumes so it does not hamper the voice message. You can test the message on yourself, friends and colleagues and should you feel it is a distraction then it might be best to remove it and let the voice do the talking so to speak!
Bulk Voice Call
Bulk Voice Call service provider
Bulk Voice Call service Ahmedabad
Bulk Voice Call software
Bulk Voice Call India
Voice Call Company Ahmedabad
Voice Call Company in Baroda
Bulk Voice Call SMS Ahmedabad
Voice Call Company in Surat
Voice Call Company in Rajkot
Voice Call Company in Mehsana
Cheap Voice Call Ahmedabad
Bulk Voice Call Gateway Ahmedabad
Voice Call Marketing Ahmedabad