We already have gone through varied Google updates which are frequently updated to rank only quality sites and prevent poor quality sites from ranking well in Google Search result. You can go through important updates of Google, those needs to be considered to rank well in Google by visiting, what Google algorithm is and how its updates influence your website!! All this updates is used to filter the sites and result in the SERP.
It is obvious that we do like filtered water, but when it is a matter of the site to get filtered by Google, it is somehow unlikable as there are probabilities to be getting penalized by Google. Google does not care about our like/dislike and do not stop Google filter process. What we can do is, identify whether your domain has been penalized by Google update or not and if yes, then why Google has penalized your website. Such an insight look can assist you to come out from the penalty and regain the position in the SERP.
In prior to that, let's have look what exactly Google penalty is?
It is called Google penalty, when your entire site is being removed from the Google index or the search result of the site ranking dropped drastically. The action can be taken by a Google update like the penguin or Google webspam team!! The foremost strike to your mind is, either your whole site rank is dropped or some of the pages rank has been dropped from the Google search result page. If you found either of, there is the likelihood that your site is caught by Google update.
If your site rank has been dropped as mention above what you need to do is, to identify a Google penalty, and being assured to come out from penalty and regain the position very soon. There are several ways by which you can identify Google penalty, are mentioned below.
First Option:
The very first and easiest way is Google Webmaster Tool, what you need to do is: Sing in to Google webmaster Tool accounts -> Go to search traffic -> Manual action.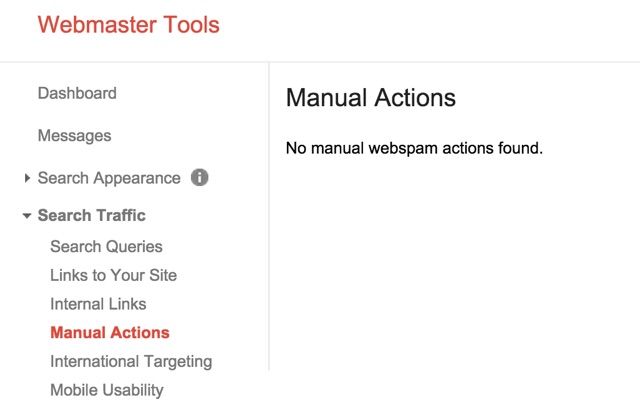 By clinking on the manual action, you will get "No manual webspam action found" it means there is no any webspam action that has taken on your site and your site is safe from any Google update/manual penalty. If your site is under penalty, it will show you the type of penalty applied and proper instructions those assist you to come out of the penalty.
Second Option:
The second way to identify is Google Analytics, what you need to do is: Login to the Google Analytics account -> Site Analytics.
Report of Site


Which shows organic traffic to your website, if you find any drastic drop in the traffic, it perhaps an indication of Google penalty. Find out the date from when the traffic drop has started; meanwhile check out, if there is any Google update on the same date. If yes, then it's very apparent that your site has been penalized by Google Penalty.
Third Option:
The third way to identify Google penalty is, simply search for the domain name in the Google Search engine, and make sure that the name of your domain is the brand name, not any keyword that you have used as an exact match domain. For an instant, if your domain name is http://vi1.in/ ,you need to search by vi1 in Google.

If your site does not index in the top 10 results, try with the title of the index page. For an instant, Best SEO Company in Ahmedabad, SEO Services, Web Designing – vi1.in, you can add a double quote to the title to have an exact search, and if still you are not able to find out your domain then it's very sure that your site has been affected by Google Penalty.
Is your site is penalized by Google, and fails to regain its position in SERP; we are the Best SEO Company in Ahmedabad, render inclusive solution correlated with SEO. To get our services, contact us today!!